14 Dating And Relationship Experts Weigh In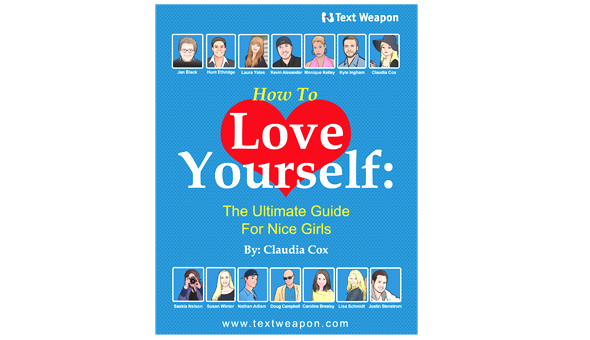 If you're tuned into the dating world, "nice" is one of those topics that comes up quite often.
And the topic is FULL of pot-holes and areas for nice girls to trip up – nice is great, but under no circumstance should a woman be TOO nice.
What? What does it mean?
The "Too Nice" conundrum is an oft-forgotten offshoot of the Madonna/Whore paradox, and it is one that continues to confound me. For example:
What is good nice, what is bad nice?
What are some specific things that women do that would be considered "too nice"?
What can nice women do to seem edgier?
And, of course:
Can the nice girl/bad boy coupling ever work out? (c'mon, we've all faced up against this one before)…
So, instead of JUST thinking about it, I decided to take action.
Learning How To Love Yourself
I contacted 6 fabulous guys and 7 seriously terrific gals who are dating and relationship experts and coaches. They kindly offered to share their personal and professional opinions, experiences and advice on how to love yourself while still harnessing the power of being nice, and successfully maneuver around all that bad stuff that goes along with it.
So, all you nice ladies out there – sit back, relax and be prepared to learn how to love yourself and a whole lot more about.
Do Men Find It A Turn Off When Women Are Too Nice? Why?
Susan: Men want a solid woman
When a man has matured, knows what he wants and is ready for a real relationship he'll be turned on by a nice woman. A man who's not ready for partnership may choose to chase women that are hard to get and difficult to manage because it's a high-stakes game for them.
There is a type of "too nice" that translates as weak. It's seen in women who're desperate for partnership and want to please their man at all costs. They have few boundaries in place, and are so agreeable that they come off as a pushover. that's ultimately how being "too nice" backfires. A man who wants a solid woman would be turned off by a female without her own set of values and opinions.
Caroline: Is there a spark?
I would be fibbing if I didn't say I reckon guys find a "bad girl" sexy to start off with, in the same way girls are often attracted to bad boys. It's mysterious and feels a bit naughty! I also think it depends on what stage the guy is in his life. If he's 18 and looking for some fun then a nice girl probably isn't going to keep him interested for long.
If the guy is looking for a life partner and wanting a family, then bad girls don't hold as much appeal. they want more stability and reliability. In all honesty though, we fall for people whether they are nice or not. Out emotions and feelings don't think about it in a logical sense. When the spark is there, it's there. No matter how much of a nice or bad girl you are!
Justin: Men love a challenge
It takes the challenge out of attracting her. As guys, we love having a challenge. We love the feeling of going after something we feel is worth going after. If a woman is too nice, she's just too easy, or worse needy. there's a big difference between nice and "too" nice.
What Could Be Considered "Too Nice"?
As a "nice girl" I was interested in some concrete examples. What is nice, and what is TOO nice?
Monique: Losing themselves in their relationship
The one thing that I do see "nice girls" doing all the time is losing themselves in a relationship. After a while you ask them how they are doing and instead of answering the say "Well my guy is… My guy is dealing with this… My guy is upset about that…" And I'm sitting there like: "But how are YOU doing?" Everything they do is for their man and they lose sight of their own interests and desires. they lose friends because they are no longer reaching out and checking in on their girlfriends. So, do not lose yourself in relationships!
Doug: Acting fake
Being "too nice" translates to not having an opinion, being afraid to disagree, being fake with the niceness. Find a way to disagree (but keep it classy), find a way to tease, kid, joke around etc., in a way that's not rude or over the top – we tease the people we really like and are most comfortable with!
How Can Someone "Too Nice" Seem "Edgier"?
Kyle: Call him out in a fun way
If a woman feels she is "too nice", one thing she can do is to get more comfortable expressing her opinion. Less confrontational women may feel that disagreeing with a guy – especially early on – will cause friction. But as long as she does it in a friendly way, he'll be happy to know her true preferences – whether it's her opinion of a movie or the revelation that she can't stand football.
A more "advanced technique" for breaking out of the nice girl stereotype is when a woman uses humor to playfully tease a guy. A little bit of "shit-shaving", if done appropriately, can show that she's not afraid to call him out, and even better, is able to make light of it.
"Woah, you nearly killed that valet guy pulling into the parking lot. Look out, Mario Andretti!"
First, this shows that she's willing to express a critical opinion when it's called for. But secondly, it shows that she's easy-going and knows how to laugh it off. And that is a great combination in a woman.
Saskia: Ask for what you need
Having confidence in who you are and loving yourself exactly as you are should help a woman shake off the "too nice" tag. People who are assertive and ask for what they need in relationships with confidence will always be a turn on. You can still be nice but you're so many more things as well. Nice is just a small part of the whole package.
Nate: Get sassy
My personal favorite way is to become a bit sassy. Start saying "no", in either a playful or serious way. You can be sassy without being bossy and overbearing.
Example:
Him: "Can you please grab me some water?"
Her: "Only after you kiss me ;)"
What Should "Nice Women" Keep Doing?
Lisa: Embrace your femininity
Be feminine. Not "sexy" from Cosmo or what you think is feminine, i.e. Victoria's Secret, porn or pick up artist bullshit. Be soft and open and KNOW what it is to be a woman.
Ask yourself what you like about being a woman and what a real woman loves about being with a man. Not for security or to complete you. How do you feel (after already finding your own damn happy) when you add a great man in your life?
Hunt: Feed and care for your guy
When you take care of us, you give us the world! It's the nicest thing EVER! Also, being attentive to our wants (this should go both ways). Picking up a shirt you saw for us you think we'd like.
Feeding us! Oh, feeding us! Can't stress this enough. Helping us with our manners and social niceties (even though we may not act like we want it). Getting us to write that thank you note, making sure our outfit matches, kicking us under the table when we've been talking too long, whispering the names of that couple we just met so we don't sound forgetful.
Can The "Nice Girl" & "Bad Boy" Couple Ever Work?
Kevin: No – it's a mess
I tried dating a "bad girl" for a year. It was a train wreck of me not yet being bad enough for her, and her refusing to become nice enough for me. She wanted a relationship no different than any other girl, but the fit just wasn't going to work as long as her idea of a good time was being a "bad girl".
She wanted to be a waitress at a pub and go drinking in her spare time. I want to be worth something to the world. Those two will never find peace together.
Laura: Maybe – if there is balance
I think it's about balance and defining what we mean by nice girl and bad boy in this scenario. If the "nice girl" sets her standards, lives by them and values herself highly, then she will attract a guy worthy of her and that will eliminate her allowing the stereotypical "bad boy" too far into her world.
However if the bad boy isn't really a bad boy – but just has some of those bad boy characteristics such as confidence and charisma yet has a kind nature underneath that, then yes, that can work. Those can be very attractive to qualities for a guy to have! But for the sake of the question; a needy nice girl who just gets taken advantage of by the stereotypical bad boy who is just an asshole – then no, that probably won't work.
The Importance Of Boundaries
An important topic that was brought up repeatedly in the full answers from our experts (which you can sign up for and download for free at the end of the article), was the importance of setting and maintaining boundaries.
So, to tackle this subject, I reached out to Jan Black, an expert on boundaries to weigh in on the subject. I'm really excited to have her share with us a few important tips on how you can avoid the "too nice" label once and for all.
Jan: Set or re-set your boundaries
Let's look at George Clooney. Not a bad assignment. Do you think a guy like George would be more attracted to a woman who is picky about who she lets into her life or one who isn't? How about Dax Shepherd, Bradley Cooper or any other solid guy you admire who seems to be good to the woman they love? They would say yes, nice women do draw lines and enforce them.
They may also say that drawing lines, which is setting boundaries, is not about being nice, it is about being responsible to be your own best friend. You wouldn't let a friend burn in the sun, so why would you let yourself boil in the insults of a hater?
One way to set or re-set boundaries is to look at what's not working in your relationships, including your own thinking about them. Behind the problem is an absence of a boundary, a boundary that's unclear, not being enforced, or not being respected. Once you see what's behind the problem, draw your line and practice enforcing it.
How To Love Yourself: The Bible Of Nice – Sign Up NOW – It's FREE!
If you like what you have been reading, and want to find out more, click here to access the entire 30 page report with every single last drop of input from every fabulous one of our experts. It's not only an entertaining read, it is also packed full of practical tips on how to love yourself, be kind, sassy and make yourself even more attractive. So what are you waiting for? Nice girls rock!
Our Panel Of Expert Contributors
Entrepreneur, brand and product maker, writer, podcaster, creator of Ludi-Q's™ and an amazing person Jan Black is the author of Better Boundaries – Owning and Treasuring Your Life. My mom gave me this book, and it changed my life, transforming me from the "too nice girl" to a still very nice girl… who will tell you to step back buddy! Learn more at TheBlackBrand.com and www.ludiqs.com
Caroline Brealey was my first Twitter friend and one of the sweetest people I know. She is the 2014 recipient of the UK Best Matchmaker Award, and the founder of Mutual Attraction dating agency in London as well as The Matchmaker Academy. Her advice can be found on The Huffington Post, Chaude, The Times and more! Learn more at www.mutualattraction.co.uk or on her Twitter: @matchmaker_miss
Monique Kelly is an award winning dating blogger, storyteller, contributor at Essence magazine, and super spin queen who tells it like it is (unless it's Wednesday – which means it's time for some wine)! Read how to live life to the fullest – one date at a time at confessionsofaserialdaterinla.com or follow her on Twitter: @confessionsLA
Saskia Nelson is the talent behind the award-winning and internationally acclaimed Hey Saturday, the UK's coolest dating photography business. But she also puts her extensive online dating experiences to good use by sharing her experiences and wisdom on her blog and many others such as Huffington Post, eHarmony and Chaude. Check ker out at www.heysaturday.co or on Twitter: @SatNightAlright
Lisa Schmidt is an expert dating advice writer, certified dating coach and leadership coach for men. She helps men find and keep meaningful relationships and up-level their lives through coaching; by providing an actionable strategy and defined road map for success. You can become a coaching client at www.detroitdatecoach.com or follow her on Twitter: @thelisaschmidt
As seen on OPRAH, best-selling author/relationship expert Susan Winter (Allowing Magnificence and Older Women/Younger Men) specializes in evolutionary forms of loving partnership and higher thinking. She writes, speaks and coaches on accessing our inherent perfection in life and love. Media credits include: THE TODAY SHOW, GOOD MORNING AMERICA, ABC/CBS/NBC EVENING NEWS, CNN, BBC NEWS 5, COSMO, HARPERS BAZAAR, PEOPLE, GOOD HOUSEKEEPING, NEW YORK MAGAZINE, THE LONDON TIMES, THE NEW YORK TIMES, THE HUFFINGTON POST, and THE GOOD MEN PROJECT. In radio Susan is a frequent guest on NPR, ABC, PLAYBOY NETWORK (Sirius Radio) and CBS News radio. You can find more about her on www.susanwinter.com
Coach, mentor, writer and speaker Laura Yates specializes in relationships, dating, break-ups and heartbreak, giving her clients the tools and perspective shifts to take practical action and create positive change. She's featured on the Daily Mail, Chaude, eHarmony and FHM. Based in London, Laura also coaches her international clients via Skype! Find out more at www.laurayates.org. Floow her on Twitter: @LauraYatesUK
Nathan Adlam is the Founding Editor of Social Sage: An Introvert's Guide To Charm. When not at his day job, he enjoys shopping at Trader Joe's, playing sports and eating guacamole. You can find more of his work at www.socialsageskills.com where you can download his 10-page free report 3 Tips to Avoid Awkward Conversations.
Kevin Alexander helps shy, introverted nice guys finish first with women via the Nice Guy Dating Daily Podcast and blog at niceguydating.ca. His brash, brutally honest yet approachable and comedic style keeps you entertained and informed about how to handle everything from dating to charm to fashion to exercise, making sure you finish first with women. When not on his podcast, you can find him guest blogging on sites such as DRI, SWE and TSB Magazine.
Doug Campbell, also known as The Mingle Master, is a student and teacher of the arts of dating and social skills. He is the creator of the Mingle with Class program, and his practical guide is a must for everyone looking for easy to use tips and real life appplication. You can follow him on Twitter: @TheMingleMaster or find him at www.TheMingleMaster.com
Co-Founder of International Dating Coaches Association & LiveDatingAdvice.com, Hunt Ethridge is senior coach, writer, relationship expert, bon vivant (who speaks French) and all around cool guy! Hunt's philosophy on relationship coaching is that each person is an individual and strives to make them the best version of themselves. visit his site at www.huntforadvice.com or follow him on Twitter at: @huntforadvice
Kyle Ingham is the founder of The Distilled Man. He teaches guys essential "gentlemanly skills", such as making decent cocktails, grilling, grooming, style and everything in between. If you'd like to become more "James Bond-ish" check out his latest articles and videos at www.thedistilledman.com and download his free ebook, 48-Hour Gentleman: Your One-Weekend Playn to More Confidence, Poise and Manly Know-How.
Founder of Elite Man Magazine, Justin Stenstrom is a nationally acclaimed lifestyle coach, entrepreneur, Podcaster extraordinaire… and super cool guy. His advice can be found at www.elitemanmagazine.com, Life Hack, the Good Men Project, Elite Daily and many more. Follow him on Twitter: @justinstenstrom
Download our free report and watch your texts reach more than just their phone.
Want to take a sneak peek at 17 pages? OR Download and listen to the first 17 pages by AUDIO MP3 = 22 minutes.
You'll also receive our blog updates with articles streaming valuable information and tips on how to fire your partner's passion and hone your seduction skills.
WHY
TEXTING WORKS
For singles & couples alike
Get Your FREE 60 Page Report!
Subscriber Testimonials
"I've never been much of a texter… lately my husband started sending me really sweet texts. I loved receiving them, but I always felt stupid because I never knew how to answer."
"After reading the Text Weapon Quick Start Guide I started spicing things up. It gave me the confidence to express myself better. In fact, I think this program not only taught me the ins and outs of texting etiquette, but it also carried over into my everyday socializing and made me a better communicator."
KSM, Physical Therapist, USA
"I never realized what I was missing in my relationship."
"This program positively changed my life. Now my husband and I enjoy more of a connection. Our lives are richer, we argue less, and we have learned how to express ourselves better – all while having fun, fun, fun.
It introduced me to new forms of texting that I had never thought about before. The program seemed to be made just for me! The different categories gave me options that fit my mood or my husband's mood. I'm a visual person, and I don't usually like long books; however, the illustrations broke up the material and made the book fun and easy to read.
Since I started using the tips and suggestions in the program our relationship has improved 100%. I think this book is the easiest and most affordable way to take your relationship to the next level..
"Being so busy with work and a new baby leaves me with little free time."
"Luckily, the program was easy to follow, had tons of engaging illustrations, and was packed with good ideas for quick and witty messages.
The text time saver formulas really helped me become more creative, and I soon found myself taking my texting to the next level. Text Weapon is light-hearted and fun. "
SC, Sales Professional, USA
Get Your FREE 60 Page Report Plus Audio!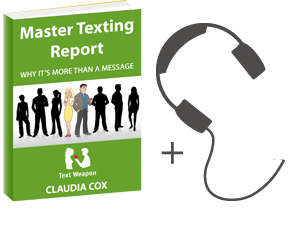 WHY TEXTING WORKS
For singles & couples alike!
2 keys most text messages miss
Blog updates
5 indispensable rules
Instantly get the insider knowledge your competitors don't have by downloading this FREE report