Your Fail-Safe Guide To Getting Her Number And Going On An Unforgettable Date
You got her number. Nice.
You're buzzing after the initial interaction and taking her number down. As the buzz wears off… some doubt starts to set in… when should I text her? What should I say? You type a message in your phone. Nah, not good enough. Delete. You aren't sure, so you throw your phone down. You'll get to it later.
You're not too worried, because it seemed like you hit it off well. After finally crafting that perfect message, you fire it off. And now…. You wait.
An hour. 2 hours. Half a day. One day…. No response. Shit.
But…
Why did she give you her number if she doesn't want to meet you?
Should you play games to make her interested in you?
What did you do wrong?
Why does this keep happening?!
It's A Minefield Out There.
Dating can not only be frustrating, it can also be tricky.
Especially the volatile time between getting her number and going out on a first date.
Keeping her interest is key.
And not shooting yourself in the foot and scaring her away is a must.
As you probably already know, what you text (or don't text) makes a huge impact on your love life.
It's basically the difference between sitting at home on a Saturday night watching Netflix, or staring into the eyes of the gorgeous girl you recently met.
You can have an A+ face to face and still text yourself out of a first date.
Or…
You can master the art of texting and make her crazy with excitement to see you again.
What's Your Strategy?
Do you "wing it" after meeting a girl?
You know, not decide exactly HOW to make her yours?
Well if you do, we're going to help you stop that.
Because not having a goal when it comes to dating is like kicking a soccer ball into the middle of the field.
Pointless.
Instead, if you use a more thought out step by step approach, she can be yours.
And we're going to give you the tools so you know exactly how you can do that.
Because who really wants to be alone and lose out to other guys?
What's Inside Digits To Dates?
I'm going to let you in on a little secret: this guide is packed with tips and information that you can start using right now to get results. We show you how to:
Get her number
Reel her in with your texts
Avoid the "friend zone"
Plan out the perfect date
Understand her responses
And of course, how to flirt in your messages and turn up the heat!
It gives you all the tools you need to stop making the same dating mistakes and finally enjoy a better love life.
Why Trust Us?
I've been helping people improve their relationships and lives for years, by harnessing the power of texting and upping their communication skills.
I started collecting and studying my text messages when I got my first Nokia in 2000. For me, texts were more than simple "hellos," they were an intimate look into the person sending them and our relationship.
Texting can be a lot of fun. If you do it right, it can be a fun romantic escape from the hustle and bustle of modern life.
It can also be a powerful weapon of seduction.
Because written words have a huge impact on the person reading them.
Especially text messages, because the good ones are not only read once. They are read multiple times.
So, crafting the right text message to a girl you just met is pretty important. And I'm here to help you with that.
Enter Nate
I teamed up with Nate, a certified professional coach, http://www.socialsageskills.com/coaching/, who specializes in helping guys have better relationships.
He's spent hundreds of hours coaching introverted guys.
Nate has been exactly where you are right now.
Confused, frustrated, and sick of missing out on all the cute girls.
He took action. He studied, he learned, and he practiced. He knows what works.
How Digits To Dates Is Different
We're both pretty excited about this guide, because it gives you both the girl's perspective and experience, and the guy's.
It incorporates our experience coaching guys through the years, and it even includes data that we collected while surveying 50 men and women on texting and dating.
Both Nate and I have read tons of relationship books, and we know that some of them leave you frustrated.
They are full of theory, but they don't give you clear answers to the problems you are facing.
So, we included 9 common problems and their solutions.
The Guy's Guide To Texting Women
If you have been out in the field trying to "couple up" with an amazing girl, then you have probably hit a few of these roadblocks:
She texts back but avoids meeting up
She doesn't text back
She's a boring texter
She texts back too quickly
She's flaky and constantly changing the subject
If you have ever faced any of these issues in the past – this guide has you covered.
Both Nate and I weigh in on what to do and how to do it, along with scenarios and message ideas.
Planning The Date
We've seen lots of guys mess up royally when it finally comes to planning a date.
They forget little details, and don't use the opportunity to set themselves up for a second date.
This guide gives you an easy to use list of do's and don'ts to make sure that you will see her again.
From prepping your place, to picking the right venue.
It gives you insight into not only know where to go, but your approach when asking her to go there with you.
How Digits To Dates Can Make Your Dating Life Better
We're not just offering you a few pick up lines to use during your next night out. We're giving you a new mind set. A new understanding of what's going on in her head when you ask those 5 words , "Can I have your number?" And more importantly, we're showing you how to successfully take it to the next level and:
Make her excited to meet you
Understand her and the way she thinks
Organize the perfect date
Avoid the mistakes that are keeping you single
Put yourself ahead of the other guys out there
If you're ready to stop collecting phone numbers (or you're not even getting her number in the first place) and have more success and fun dating, here's your chance!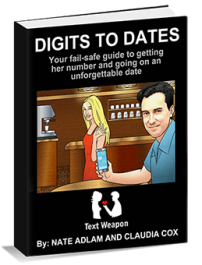 Subscriber Testimonials
"I've never been much of a texter… lately my husband started sending me really sweet texts. I loved receiving them, but I always felt stupid because I never knew how to answer."
"After reading the Text Weapon Quick Start Guide I started spicing things up. It gave me the confidence to express myself better. In fact, I think this program not only taught me the ins and outs of texting etiquette, but it also carried over into my everyday socializing and made me a better communicator."
KSM, Physical Therapist, USA
"I never realized what I was missing in my relationship."
"This program positively changed my life. Now my husband and I enjoy more of a connection. Our lives are richer, we argue less, and we have learned how to express ourselves better – all while having fun, fun, fun.
It introduced me to new forms of texting that I had never thought about before. The program seemed to be made just for me! The different categories gave me options that fit my mood or my husband's mood. I'm a visual person, and I don't usually like long books; however, the illustrations broke up the material and made the book fun and easy to read.
Since I started using the tips and suggestions in the program our relationship has improved 100%. I think this book is the easiest and most affordable way to take your relationship to the next level..
"Being so busy with work and a new baby leaves me with little free time."
"Luckily, the program was easy to follow, had tons of engaging illustrations, and was packed with good ideas for quick and witty messages.
The text time saver formulas really helped me become more creative, and I soon found myself taking my texting to the next level. Text Weapon is light-hearted and fun. "
SC, Sales Professional, USA