My Secret Text System That Gets You The Girl!
Texting is a key part of our lives. We live out a huge part of our relationships through our phones, through messages and emails. Unfortunately texting is not always easy to do.
Tone is much harder to convey in texts, and you can't gauge her reactions as well.
You can be as charming, good-looking, and chivalrous as you like, but if your texts bore a girl out of her mind, you won't be the one she's thinking about before bed, the one she stays up chatting to, or the one she wants to see more of.
But…
If You Know How To Text Well, The Possibilities Are Endless.
You can get women intrigued, interested, and even turned on through the simple power of text messages.
And I'm going to show you how.
After all, we're on this planet to laugh, to love, and to connect.
I want to give you the tools to make that not just possible, but virtually certain.
Texting tools that will help you connect with women, keep them engaged, woo them, and excite them.
Get Ahead Of The Pack
I'm all for self-improvement, and while no one is perfect, it shouldn't be a skill like texting that holds you back.
Not when there are people like me around who can tell you exactly what you need to know in order to craft amazing text messages!
I'll warn you now: this is a comprehensive guide. At over 8,000 words, I cover a lot of material:
How to tell if a girl's into you
How to approach attractive women over text
How to utilize mutual friends to get ahead of the pack
How to ask a girl out
How to have fun over text at any point in a relationship
And of course, how to flirt and turn up the heat!
Actionable Advice At Your Pace
Don't worry, you don't have to read it all in one go. I find the guide works best when you dip in and out as you need.
One week, it might be following up after getting a girl's number…
But if things go well, a week later, it could be taking your text flirting to the next level.
This guide is designed to cover all of the bases, so you've got text advice at hand whenever you need it.
Where This Guide Came From
I've been studying the art of texting for years.
In fact, it all started because I was one of the very women I'm going to show you how to woo over text…
I got into a text relationship that I shouldn't have. The guy was a joke.
He was arrogant, dishonest, cheap, out of shape, rude, ungentlemanly, and lived hundreds of miles away.
So What Was I Thinking?
Boy, could he text!
Living so far apart, a lot of our relationship consisted of texting. And his were like little jewels arriving throughout my day.
The power he had over me because of his text mastery was incredible.
When I eventually got out of the relationship, I threw myself into mastering texting.
I realized that not only are there a lot of things you can do right, but there are also tons of things you can do wrong.
There Are Key Mistakes You Need To Avoid
Plenty of guys know a few good ways to write engaging texts, but every now and then, they shoot themselves in the foot by making one of several critical mistakes.
Some are simple, some are complex. They include:
Asking her out too early on
Friend-zoning her without realizing it
Not recognizing when a conversation is dying and being brave enough to let it die
Getting too flirty too soon
Letting conversations become mundane and boring
If any of these have ruined your chances in the past – this guide has you covered.
Still, even if you know the theory, you might have a problem.
You Need Texts You Can Use
Plenty of experts out there are happy to dish out advice and tell you what you're doing wrong. But what can be more helpful than anything else, is to give you examples of how to do it right.
I don't just bombard you with theory. This guide is packed full of example texts for you to modify and use, or send just as they are!
They cover everything from setting the stage, flirting, little one-liners, games you can play with her, and more.
Texts like, "It's been a long time since I spent the evening with the best looking girl in the room."
What a way to follow-up from a great date!
Or how about, "You should probably stop doing that."
Intriguing, right? You just know she's going to reply,
"Stop doing what?"
Which then sets you up for the sweet and cheesy line, "Thinking about me ;)"
See what I mean? These are texts you can take straight out of the guide and put to work immediately.
Texting Has A Place In Every Relationship
If you've already gotten past the first stages of dating and attraction, you might be thinking that you've reached the end – the flirting stops now. You've got the girl, you've got your routine, and you're settled together.
The fiery passion of those first few weeks and months is behind you, right?
Wrong.
There's no need to let go of that desire. In fact, you can reignite it and bring it back stronger than ever.
I've got a ton of flirty texts that will make her hot with desire for you.
These messages seriously turn up the heat. I'm going to warn you now: there's a time and place for texts like these!
If you're going to turn her on over text, and trust me, with these, you are, then you have to make sure you pick your time wisely.
When the moment is right, these are the message you send to get her heart racing, before getting even naughtier.
Why She Stopped Texting You
Maybe you're not in a steady relationship at all.
Maybe you had something that felt like it was going somewhere and all of a sudden… nothing.
Silence.
It can be really hard when a woman suddenly disappears. There can be a number of reasons why she's stopped talking to you, and a lot of them boil down to whether you were sending messages that kept her interested.
I've broken down four reasons why you might have blown your chances, and what you can do better next time.
How This Guide Can Help You
I'm confident that whatever your current situation with women, this guide can help improve your love life.
If you want to get along better with women you meet, I'll show you engaging texts that can help you successfully get a first date
If you've been on a few dates already and want to take the relationship to the next level, I've got some text gems that will help you get that commitment from her
If you're in the early stages of a relationship, you'll discover how to keep things interesting, get to know her better, and connect on a deeper level
And if you've been in a relationship for months or years now, I've got the keys to unlock new levels of passion and desire with hot texts that keep the fire burning
If you want to get your hands on all 8,000+ words of wisdom, here's your chance! Click here for Getting A Girl Via Text for just $9.99.
Bisous,
Claudia
Getting A Girl Via Text – $9.99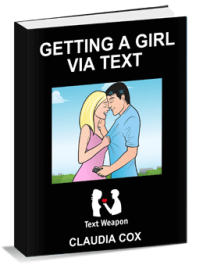 Subscriber Testimonials
"I've never been much of a texter… lately my husband started sending me really sweet texts. I loved receiving them, but I always felt stupid because I never knew how to answer."
"After reading the Text Weapon Quick Start Guide I started spicing things up. It gave me the confidence to express myself better. In fact, I think this program not only taught me the ins and outs of texting etiquette, but it also carried over into my everyday socializing and made me a better communicator."
KSM, Physical Therapist, USA
"I never realized what I was missing in my relationship."
"This program positively changed my life. Now my husband and I enjoy more of a connection. Our lives are richer, we argue less, and we have learned how to express ourselves better – all while having fun, fun, fun.
It introduced me to new forms of texting that I had never thought about before. The program seemed to be made just for me! The different categories gave me options that fit my mood or my husband's mood. I'm a visual person, and I don't usually like long books; however, the illustrations broke up the material and made the book fun and easy to read.
Since I started using the tips and suggestions in the program our relationship has improved 100%. I think this book is the easiest and most affordable way to take your relationship to the next level..
"Being so busy with work and a new baby leaves me with little free time."
"Luckily, the program was easy to follow, had tons of engaging illustrations, and was packed with good ideas for quick and witty messages.
The text time saver formulas really helped me become more creative, and I soon found myself taking my texting to the next level. Text Weapon is light-hearted and fun. "
SC, Sales Professional, USA