Discover Your Secret Weapon Of Seduction That Will Transform Your Love Life
Romantic stories that will hook your partner into wanting more than ever. Spice up your relationship with 55 personalised romantic stories your woman will love… and a money back guarantee.

If you're reading this, chances are you understand the power of texting. It's a crucial part of modern life and modern relationships.
Maybe you've gotten to the stage where the messages you exchange with your wife or girlfriend are the same old things: chores, shopping lists and when you're meeting the in-laws.
Aren't you tired of these dry conversations?
But Claudia, We're All Good…
Maybe you think your relationship's going 'OK'.
You think my advice probably wouldn't help.
I'll ask you this: do you want to take that chance?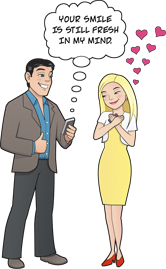 The #1 Reason for Divorce Is Poor Communication
There were over 800,000 divorces in the US in 2015 ( according to the NCHS statistics here ). And why did so many marriages fail?
The number one reason was poor communication ( survey of mental health professionals here ).
Of course, you're here, so you know communication is key. But what about cheating or boredom? Even if you communicate, are you sure you're keeping your other half interested in you?
Nervous now?
Don't worry – I have the answer.
I'll show you how to ditch the dry conversations and make both you and your partner happier.
How?
By sending her romantic stories that will drive her wild thinking about you! Can you imagine the boost to your relationship if she craved each new text from you and shivered from hearing your voice over the phone?
Now, I want to ask you something…
Isn't it About Time to Be the Guy Whose Woman Raves about Him?
You know the one. Get a group of women together and when most of them are complaining about their other half, one will be proudly boasting about all the romantic things he does…
This guy's keeping the relationshipexciting, but I'm going to let you in on a secret – he's not Superman!
You can be the one whose girlfriend raves about him to all her friends. Don't you want to be that guy?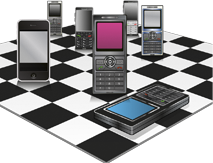 Make Romance Quick, Easy AND Heartfelt
Romance. Obviously you know women love this! So why aren't you doing it? What's stopping you? I've heard these all before:
'I don't have the time'.
'I can never think of anything'.
'Romance is cheesy – it wouldn't feel genuine coming from me'.
I feel your pain! I understand why you're here, I've developed a solution and I'm going to tell you what you can do today to make your relationship stronger than ever.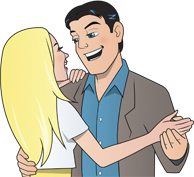 What Happened to the Initial Spark?
Have you lost intimacy, that 'connection' from when you started dating? When you couldn't keep your hands off each other? Do you want to get that excitement back?
It's easy to look back fondly on the start of relationships, when everything was exciting and new, and think 'I wish we still had that.' Well why don't you do something about it? Take your relationship to the next level – fresher and hotter than ever before.
Text Weapon - Couple Dancing
 Use the Power of Storytelling to Build Trust

Storytelling has been an art for thousands of years, and suddenly it is dying at the hands of modern men. Well you know what? Women still want stories! Storytelling connects people emotionally, helps us to understand others, and builds trust and intimacy. Funnily enough, those sound just like ingredients for a good relationship! If you can be the one guy who can still tell a great story, you'll be a rare beast indeed, and your woman will love you all the more for it.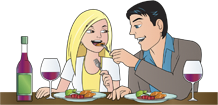 See an Instant Boost in Intimacy
Passionate – to bring back that spark to your relationship and leave your woman wanting more
Personalized – using your name and hers to show you care and build the emotional connection that will keep you together and secure
Powerful – surprise her with a short text to read instantly, build anticipation with an email, or set her pulse racing with a voicemail she knows is your voice waiting for her
Best of all, it's so quick and easy! Just login and copy the story then send it as an email, voice message or text.

This powerful compilation of stories will transform how your woman thinks of you.
I'll be honest, they almost need to come with a warning: Use with Caution. Immediate Results.
How many romantic messages have you sent your wife or girlfriend?
And how many since you passed that first, fiery phase?
I'm offering you the opportunity to change all that, because I've written 55 romantic stories! Imagine the difference that many loving messages could make for your relationship.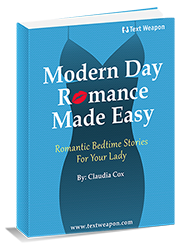 Get Access to 55 Romantic Stories to Drive Her Wild
Sign up today to enjoy six months of unlimited web access to my massive repository of romance! You'll get all 55 romantic stories, hosted in our private membership area, to use as you wish. What's more, you can choose how you want to send them.
Each story has its own email and voice version as well as a shorter text format. Mix up the type of story you spoil your woman with to make them even more powerful!
The mobile optimized site means you can send a romantic email one day, a cute text story the next and a sexy voicemail after that – imagine your woman's reaction! To really drive her wild, you get to personalize each story with your names.
All you need to do is type the two names in and the custom story will be generated for you to copy, paste and delight with!
You'll also get all 55 stories to download as an eBook as well as on the personalized site. Don't say I don't treat you!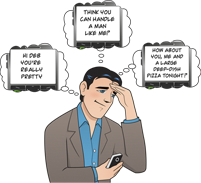 Leave Behind Your Dry, Boring Texts and Supercharge Your Relationship
It's natural that relationships can lose a little je ne sais quoi after a while. Ever wondered why the English use this French phrase? Because the French are such a romantic nation! I've learnt from the best to craft these stories that will do away with your banal texts and replace them with passion and desire, using the French touch other text gurus can't give you.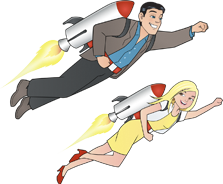 Relight the Fire for Less Than the Cost of a Lonely Film
I hate this part, but bear with me. Sadly, I can't just give these stories away for free, because helping you guys out is actually my job! I love what I do, but I need to get by as well… What I can say is that these stories offer amazing value for money.
Thanks.
Right, so how much do you spend on an emergency romantic meal when she's mad at you? $60? At least, right? (Fast food does not count, by the way!) Probably more with a fancy bottle of wine (aren't you a classy gent). Or maybe a nice film? With popcorn, drinks… $30? $40 if she has a sweet tooth? I'm hoping you treat her at least once or twice a month, so we're talking, $200-300 over 3 months. A small price to pay for such a wonderful lady I'm sure.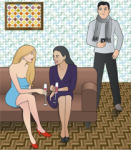 But what if you could make her even happier, and make your relationship hotter, for a fraction of that cost? Interested? Good, because I'm offering 6 month access to, and an eBook of, all 55 of my stories for just $19.99. For that you could just about go to the cinema on your own and sit there with no popcorn and maybe a handful of candy. Or you could be reigniting your relationship and enjoying levels of intimacy you haven't had since you started dating. Your choice!

Romance Rekindled in 3 Easy Steps
Putting the spark back into your relationship and leaving your wife or girlfriend craving more is as easy as 1,2,3!

Sign Up Now to get full membership access to 55 romantic stories that will transform your relationship hosted on our site and as an eBook.
Add Your Names to get personalized, custom stories generated just for you and your woman in email/voice message and text formats.
Copy & Send as a text, email or voice message to enjoy the instant boost these stories will give your relationship and become the guy whose woman raves about him.